HAYES STATE PARK
W.J. Hayes State Park, in the heart of the Irish Hills, is bordered by a group of inland lakes frequented by anglers and boaters. The park's close proximity to Michigan International Speedway, crafts and antique shows and other attractions make Hayes State Park a prime tourist destination. The park is also newly handicapped accessible.

Hayes State Park is one of the system's oldest state parks. Dedicated in 1920, the park originally was named Cedar Hill State Park. The name changed when the Hayes family donated land to the park with the condition that it be renamed to honor Walter J. Hayes, a Michigan senator. The park has gone through many changes, but the major constant has been the attraction of Michigan's visitors to the recreational waters of Wamplers Lake.
The Recreation Passport is required for vehicle entry into state parks and recreation areas, state boat launches, state forest campgrounds and state trail parking lots. Details and information on how to obtain your Michigan Recreation Passport can be found by visiting the
MICHIGAN RECREATION PASSPORT
web page.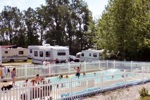 Campgrounds
Enjoy Southeast Michigan's Best Family Camping experience at our clean, quiet, friendly campground. Jumping Pillow, WiFi, Paddle Boats, Minigolf, Swimming, Bicycling and more
12.1 miles from park*
---
Hayes State Park is located near Adrian, Ann Arbor and Brooklyn
---
For automobile and speed lovers, the Michigan International Speedway in Brooklyn is a short drive from the park. Stage Coach Stop, USA, a local theme park, is also within miles of the park. Other local activities include miniature golfing and antique shopping along U.S. 12.

Concession/Store:

Canoe, row boat, paddle boats and tube rentals available. Call the concessions vendor at 517-467-4550 or the park at 517-467-7401 for hours and prices.

Metal Detecting Areas:

Metal detecting is recognized as a legitimate recreation activity when it is conducted in ways that do not damage the natural and cultural resources in Michigan State Parks nor violate applicable state statues. Any items found must be reviewed by park staff and may be retained for further investigation.
---
---
Clearwater Resort Devil's Lake
6150 Us Highway 223
Addison, MI
(517) 547-7472
Hideaway Cove
11560 Breyman Hwy
Tipton, MI
(517) 431-2594
Whispering Lakes
12900 Mull Hwy
Tipton, MI
(517) 431-2416
North Haven Resort
11400 Waterman Rd
Brooklyn, MI
(517) 592-6170
Entrance on US-12 9 miles West of Clinton, 4 miles East of M-50, M124 cuts directly through the middle of the park.